1954

Mirakukai, the forerunner of Senshukai, is established The hanpukai business starts for kokeshi dolls

1955

Senshukai Co., Ltd. is established

1958
Tabemono Senshu ("taste for cuisine") is published
1960

Tabemono Senshu is renamed Cook

1976

Belle Maison catalog is published

1984
Listed on the Osaka Securities Exchange, Second Section
1986
Belle Manie ("beautiful mania") is the forerunner of Sumai-to-zakka ("living and sundries") is published
1988

Listed on the Tokyo Stock Exchange, Second Section
Made-to-order shoes line Benebis is launched

1990
Listed on the First Section of the Osaka Securities Exchange and the Tokyo Stock Exchange
1991
The Senshu Scholarship Foundation is established
1993

Disney Fantasy Catalog is published Afforestation project is launched in Australia
Senshukai Hong Kong Ltd. is established

2000

Online shopping website Belle Maison Net opens
Senshukai Call Center Co., Ltd. is established

2002
Belle Maison Monthly Club is launched
2003

Senshukai Iihana Co., Ltd. is established

2004
Belle Maison Lifestyle Research Department is established
2005
Women's in-house committee Hana*maison is established Senshukai welcomes the 50th anniversary of its founding
2006
Belle Maison catalog marks the 30th anniversary of its launch Senshukai Marketing Support Co., Ltd. is established
2007

The first Kurasu Fuku shop opens

2008

The company is reorganized into a two-headquarter structure in Osaka and Tokyo
Dears Brain Inc. is reorganized into a subsidiary

2009

BELLE MAISON, the first shop outside Japan, opens in Shanghai

2010

Cooperate with the pink ribbon by donate part of the profits from sales to bra of belle maison
Mobakore Co.,Ltd., is reorganized into a subsidiary

2011
New company vision "woman smile company" establishment
2013
Shufunotomo-Direct Co.,Ltd.(Now, Belle Neige Direct Co., LTD.) is reorganized into a subsidiary
Senshukai Child Care Co.,Ltd. is established, engaged in child care support services
2015
Invest in Watabe Wedding Corporation, converting the company to an equity-method affiliate
2017
Feel Life Inc. is established. Huit laboratories, Inc., becomes a subsidiary

The company bought our first product for the hanpukai business, kokeshi dolls, from the Thousand Kokeshi Hobby and Collection Club. We took two kanji from the supplier's name thousand("sen") and hobby("shu") and this has remained our company name since.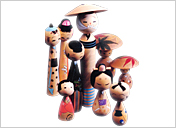 The French term belle maison means beautiful house. The title encapsulates our wish to create a catalog like a house and communicate various types of information from each of its many rooms.