"A company which makes women happy." "A company which delivers smiles to women." This is Senshukai's vision, its theme.
Senshukai started out as a kokeshi doll distributor in 1955, providing smiles and cheer to the lives of working women. Now, more than 55 years since our founding, we continue to develop and provide products and services that women love. What has brought us this far is how we value being seen as a familiar part of women's lives. As a result of our emphasis on being part of women's lives, we have become a unique business model in that 95% of our customers are women. We even have many customers who have been fans of Senshukai for the second or third generation, following on from their mothers.

Senshukai which developed the business that snuggled up tofinding employment and marriage, the life stage of various women including the delivery through the life of the woman from the establishment of a business of 1955 throughout.Our founder expressed the life of the woman and the chain as "9 characters design".Woman are existence to lay new life, and to bring up while playing an active part in the work, in society, and at home. We contribute to the further activity of the woman from now on.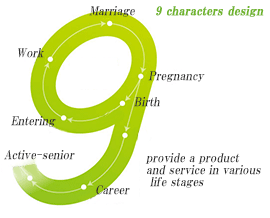 Senshukai has a great deal of data, collected over many years, that it has gathered through sales, covering customer information, purchase histories, catalogue distribution histories, web viewing logs, and session numbers since before having been said to be" big data". We adopted a big data analysis platform in 2013.
We utilize the big data which I included the log of WEB in and perform highly precise analysis, prediction by the data mining. We regard that we analyze in combination the action of the visitor and predict various data as most important. It is important to clarify the action actual situation by data analysis as much as it does not show the face of the visitor by the mail order.
Data analysis having high precision is enabled in future by letting you brush up these technique more.We aim at the smooth correspondence such as the meeting sale at all to make stronger relations with appropriate approach for a visitor by making full use of data in a catalogue mail order and EC.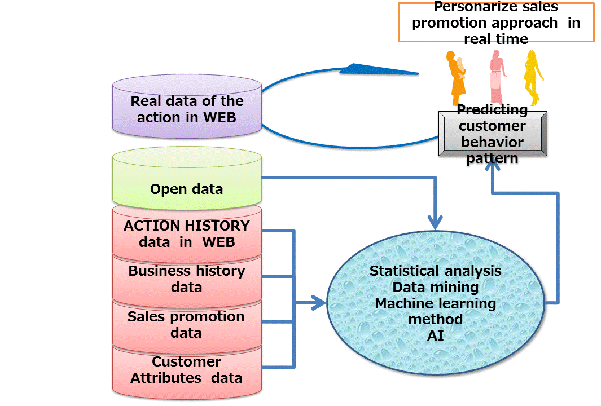 This is a research institute which we established in 2005 based on the data we accumulated over half a century of being closely involved with women's lifestyles. This accumulation of things that have put smiles on women's faces through convenience and comfort that are ahead of the times is Senshukai's DNA. Analyzing and studying trends in the diversifying lifestyles of women allows us to spot emerging new values and changes in women's awareness, forecasting future trends.
In addition, we carry out monitor session and questionnaires using our own independent networks, which help with strategies for our product development and project management.